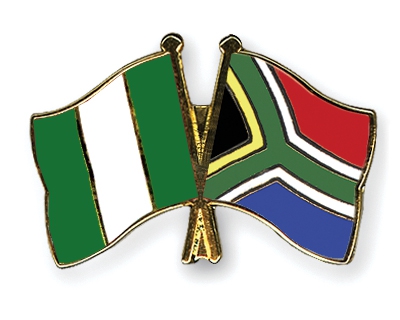 Foreign Affairs Minister Geoffrey Onyeama told newsmen at a forum in Abuja last weekend that Nigeria and South Africa have set up a 24-hour early warning system to protect Nigerians from unwarranted attacks. Onyeama said that the Ministry of Foreign Affairs discovered that the Nigerian Union in South Africa did not have any access to the South African Government and proposed to put in place an institutional mechanism that will address the issue of xenophobia in South Africa.
The minister along with the Minister of Interior had recently traveled to South Africa to convince the South African Government to set up an early warning unit, comprising the Nigerian High Commission there and the Nigerian Consulate but most importantly, the Nigerian Union in South Africa. The South African side will comprise the Ministry of Foreign Affairs, the Ministry of Home Affairs which is in charge of the police and the police. They will be meeting regularly to share intelligence, share information, build trust and develop strategies for early warning intervention.
The minister said the Nigerian community felt it was at the mercy of the South African police and that he had directed the Nigerian High Commissioner in South Africa to arrange the first meeting as quickly as possible. He expressed the hope that the step would go a long way to addressing the frequent xenophobic attacks. He also disclosed that the Nigerian High Commission in South Africa had been directed to facilitate legal support to help the victims of recent xenophobic attacks in the country to get their compensations.
The victims of the attacks had been advised to make an inventory of their losses through a mechanism that had been created, known as the early warning unit. "What we have done is that we visited the scenes of these attacks; we spoke to victims, we saw their businesses and we advised them to make an inventory of their losses. "And, that the mechanism we have created, the early warning unit, what will then happened is that they should submit all their claims through the Nigerian High Commission to be presented at a high-level meeting to push the issue of compensation.
"First of all we have to see what the insurance laws provide and really take it from there; the important thing is that this should be addressed. "We also asked the high commission to facilitate with legal support, to identifying lawyers and all that to help in the process." Onyeama decried attacks on Nigerians in South Africa and India which sometimes led to death and expressed concern that the South African situation was more troubling because it often re-occurred. "We have engaged directly with the highest levels of government of South Africa. The Vice President of South Africa spoke with the Acting President at the time "